News
Storylines of TI3 - Part Two
Thu 1st Aug 2013 - 1:03pm Category:

Dota 2
Last time we talked about the great rivalry of The Eastern Scene vs The Western Scene in Dota2, and what it meant going into The International 3. This time we focus on the Western Scene and the storylines which have developed over the year. Stay tuned next time for a rundown of the Eastern Scene!
The year since The International 2012 has been a good one for western Dota. The tournament scene as a whole has grown so much as to be almost unrecognisable from previous years. With old mainstays such as The Defense, Dreamhack and Starladder boasting hugely inflated prize pools, and new players such as ESL and the Raidcall D2L joining the tournament scene, western teams have had an abundance of tournaments to prepare for and partake in. Furthermore, new studios have opened up, pushing the boundaries of what it means to broadcast professional Dota2. #ProductionValue has been the name of the game and even the mere experience of watching from home has grown and evolved over time.
#ProductionValue
Kings of the West
Any level of competition amongst peers leads to the individual parties striving to out-do the other. This means that healthy competition is good for the scene, as the teams and studios cannot afford to grow complacent and must ever strive to be even a tiny bit better. In a game such as Dota2, in which perfection is nigh-impossible, even little variances in skill can make all the difference. In such an environment, it is difficult to be the best for long…
…Which makes Alliance's achievements over the last year all the more amazing. It is important to step back for a moment and consider that these five players were not playing together a year ago. Indeed, at the time of the previous international, only two of them had played professionally at all, and only a single one – the legendary Loda – finished in the money in the 2012 tournament, as a member of team Zenith. Since they banded together under the name of No Tidehunter, the team almost immediately made a splash. With EternalEnvy in the supporting role and drafter's spot they managed to win their inaugural Dreamhack – no small feat – including an amazing level one Roshan bait that EG bought hook, line and sinker. The sheer amount of nerves it must have taken to commit to such a daring strategy in the finals of Europe's biggest LAN event shows that this team has what it takes to win and win big.
This moment will go down in Dota2 history.
Shortly thereafter, Envy and Alliance parted ways, with the void being filled by EGM. Any fears that may have existed regarding the team's continued performance have long since been silenced – their sponsorship with Alliance was finally announced, and the amount of gold on this team's shelves must surely dazzle the eye to behold, as they have won tournaments big and small across Europe and even into China: various EMS Cups, multiple Starladders (seasons 5 and 6) multiple Premier Leagues (seasons 4 and 5), the Dreamhack Invitational, Dreamhack Summer, the G-1 Champions League and more.
However, their run of wins, whilst amazing, is not unblemished and they have been shown to be mortal. Holes in their drafts and strategy can perhaps be exploited for individual games, as was shown in the Dreamhack Summer group stages. However, even after suffering such a decisive defeat at the hands of Quantic, Alliance recouped, dusted themselves off and proceeded to win the tournament anyway – including a resounding perfect game in the Grand Finals where they won without any of their heroes dying even a single time… against the very team that beat them so soundly in the group stages. The strength of spirit and resolve that that allows a team to shake off adversity so easily is, perhaps, the "X-Factor" that separates the world's best from the world's champions: all this from a team that has been together for a few scant months.
The achievements of Alliance are not to be underestimated, but they are not the only contenders to the throne. Hot on their heels is Natus Vincere – a team that has for years, not months, remained in every conversation that seeks to enumerate the best teams in the world. Their list of achievements tops even Alliance's in terms of sheer quantity. It speaks volumes of a team that they won the very first iteration of The Defense in the early months of 2012 and, with remarkably few changes, to win the fourth iteration of the very same tournament a few short days ago. In between, they have dominated the western scene, always hovering near the top.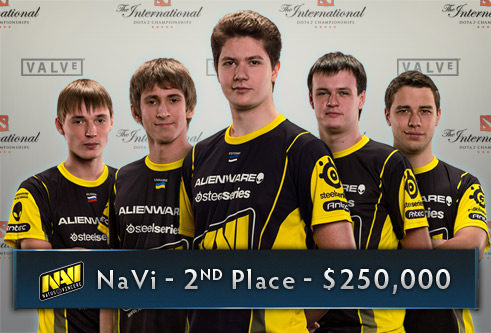 The team which came second in TI2
It must not be forgotten that this is the very team that won the very First International, and – with only a single roster change – came second last year. This year, they have made two roster changes, and whilst patterns suggest that they should come third this year, they have rarely looked stronger. Not to be outdone by the aforementioned Alliance, Na'Vi, too, went to China and won a major tournament there – The Alienware cup, an online tournament that consisted of ten teams all invited to The International 2013. Ever since the addition of Kuroky and Funnik (both of whom have been around for an age) to their lineup, Na'Vi has returned to dominating form.
Whilst Alliance boasts of new blood and the next generation threatening to overtake the old, Na'Vi is the empire of old, the dynasty that has ruled for an age. They have seen many challengers come and go but remain, stable and steadfast. They, too, have shown that they can overcome adversity. However, whilst Alliance is known for their strong drafts and solid lineups, Na'Vi is not afraid to mix things up. Puppey is as fantastic a drafter as he is an entertainer, and is not afraid to go against the grain and "counter the naga siren", giving away what is considered to be the strongest 5 man draft and utterly destroying it. Perhaps it is in Na'Vi to stop the seemingly indomitable Alliance. They excel at fighting on strange ground, at upsetting the balance and fighting their own fight without letting their opponents play the game they would like to play.
Seriously. Watch this game.
Challenging the top
Whilst these two teams, perhaps, stand a level apart from the others coming into the tournament, and remain the favourites to win it, they are by no means the only challengers. Mousesports' roster is a storied one that has a lot to gain from this tournament. Three of the attending members were not present at the previous International, but the remaining two – Black and Synderen – had, perhaps, two of the worst tournament experiences.
Forever alone
Black was member of last year's mousesports squad. Invited as one of the two "wildcard" teams, they would only even be given the chance to play if one of the other teams did not make it. The likelihood of a team passing up the opportunity of a lifetime was close to nil, and (by all accounts) the squad treated it as a free trip to watch the international. And then the impossible happened. MUFC failed to make it, and Mouz was given the opportunity to play against the other wildcard team – World Elite – to grasp the opportunity of a lifetime.
What mouz expected to do
They won the wildcard match, and entered the tournament. Unfortunately, their lack of preparation against teams that had known they would be participating for many weeks led to a lacklustre tournament for the team. Managing only to draw against two other less powerful teams, they finished joint-last in the group stages, and were knocked out in the first round of the main event by eventual 5th place, EHOME. If they had given the tournament the same dedication they would have had they received a direct invite, perhaps they would have managed to perform better. Alas, it was not to be.
What mouz actually did
Synderen's experience was, perhaps, even worse. Heartbreakingly denied an invite to The International 2, mTw instead had to fight through the Western Qualifier. They were knocked down in the first round of the upper bracket, and had to fight their way through the lower bracket to eventually face up against NEXT.kz for the opportunity to attend TI2. Throughout the loser bracket, mTw steamrolled the opposition, not losing even a single game until the grand finals where they dropped a one to NEXT.kz but managed to take the qualifier.
Following on from the qualifier, mTw went into beast-mode, briefly dominating the scene, winning tournaments left and right including Dreamhack. They went into TI2 as fan-favourites to go far. Alas, it was not to be. Due to some incident during their pre-TI2 bootcamp, morale was at an all-time low, and synergy between the team members was almost non-existent. Even before the tournament began, the members of the team knew that they would not be staying together after it was over. As a result, mTw, too, bombed out of the group stages and lost in the first round of the knockout stages, failing to live up to their potential.
The raw experience to temper the hot fire of talent
After that, mTw split up, and Synderen's following team – Redefining madness – was not a success. They, too split up, and Synderen was relegated to a playing as a stand-in. Meanwhile, the mousesports roster also went their separate ways, and Black, after dabbling in a number of other rosters finally settled down back in mousesports with an entirely new roster. Unfortunately, they were not performing spectacularly well, and it almost seemed as though that would be the end of their story, but fate (and Valve) decided otherwise. After adding Synderen to their roster, mousesports began to play on a completely different level. Despite not receiving a direct invite to TI3, mousesports entered into the Western Qualifiers. Similar to mTw last year (almost as though fate was giving Synderen a chance to repeat history) , they dropped their first game but then dominated the lower bracket only dropping a set in the grand finals against DD dota – the team which would soon be sponsored by Quantic.
The hero that mouz deserves
Since then, the team has been on roll, taking games and tournaments against some of the scene's strongest teams, and their teamwork is improving at an incredible rate. Perhaps more importantly, the team is getting along with each other and, by all accounts, their bootcamp is working out incredibly. This is a chance for Black and Synderen to get the tournament they deserve. They are back in Seattle expecting to go far and achieve their potential with a fantastic team around them.
In it to win it
Virtus Pro is one of the most entertaining teams in Dota. Their high-octane style ensures an exciting battle between two teams, and they have come to perfect it. Always keeping their opponents off-balance by means of constant aggression, they strive to play their own game whilst refusing to let the enemy play theirs. Their current roster is a team of Russian all-stars consisting of old-blood and experience in Ars-Art and NS infused with new, fresh faces in KSi, Crazy and Illidan. Ars-Art, often hailed as the best support in the west, was a part of the Na'Vi roster that dominated the latter half of 2011 and the early months of 2012 – and came second in TI2. His experience is unquestioned, as he has been playing the game for many years, and his aggressive support play style is perfect in VP.
Writer's Opinion: Best. Logo. Ever.
This team is full of passionate and hard workers who love what they do and are incredibly good at it. This is evidenced by the fact that they are capable of taking games off and competing with the best in the scene. They won The Defense 3, triumphing over rivals Fnatic.EU, but have yet to repeat the feat in major tournaments. The International 3 is the perfect opportunity for them to test their mettle against the very best the world has to offer.
Seeking Redemption
Not all is buttercups and roses in the west, however. Team Liquid, Team Dignitas and Fnatic.EU all started off the year incredibly well, all taking their turn at the top.
Team Liquid managed to qualify for the G-1 Champions League through the Western Qualifiers, beating some of the best teams the west had to offer to get the chance to compete at their first LAN event as a team – and, for some of them, their first LAN event ever. The experience was fantastic for them, and helped give them a taste of live competition. They even managed to take a game off the current reigning International Champions, iG, as well as perform some fantastic plays in high pressure situations. However, since then, their results have been relatively lackluster, with their last major tournament victory having been against teams who had not qualified for TI3. How they match up against the rest of the teams right now is uncertain. Their bootcamp is sure to help fill any holes in their play and bring them back into the shape that helped them beat the best in the world.
Here's hoping for more moments like these
Team Dignitas is a team that has always been at the periphery of the very best teams in the world. Ever since their appearance on the scene as PotM.Bottom, they have shown great potential. They have yet to win a major tournament, but one senses that it is only a matter of time. They are, however, almost always considered to be the underdog, albeit being able to cause upsets against any team on any given day. Perhaps this will come to serve as an advantage, as being underestimated by their opponents could mean that they are able to take them by surprise and proceed far into the tournament.
I take it back. This is the best logo ever.
Fnatic.EU has fallen from grace. During the latter half of 2012, they were taking major games in major tournaments from major teams and making it look easy. As such, when the invites for TI3 went out, Fnatic.EU was invited in the first wave. Unfortunately, they seem to have fallen into somewhat of a rut lately, losing to teams they could previously have been expected to beat. It is possible that their play style has been figured out, and their moment in the sun is over. However, it is incredibly dangerous to count this team out. Although they are relative newcomers to the Dota scene, they were the champions of the world in HoN, dominating the scene until they left for the greener pastures of Dota2. It remains to be seen whether the team can recover some of their earlier form. Their pre-TI3 bootcamp will be crucial to help them with this.
It cannot be said that Fnatic doesn't have good relationships amongst its members
Wildcard
Representing the west in the Wildcard match is what could, amusingly, be described as the Wildcard team. The recently sponsored Quantic Gaming is also relatively recently formed, albeit of players that have been around for a long time. The French core of the same mTw that had such a sad tournament last time round has a second chance at going as far as they can in this tournament and the CIS duo in Goblak and Silent also has a chance to bring their Dota legacy to a head.
Silent scores a rampage against one of the best teams in the world
Indeed, when these forces united in DD, their affect was almost immediately noticed in the western qualifiers, where the team managed to stay in the upper bracket all the way to the finals where they unfortunately lost. This was an amazing feat for a team as young as DD was at that point, having formed a few scant weeks prior to the tournament. Their ability to do so well after such a small amount of time together bode well for the future.
Unfortunately, as the team is so young, there is not a lot of information around the team but rumours and mystery. In Dreamhack Summer, their first major outing as a team since the western qualifiers, they managed to make the immortal look mortal by taking a game of Alliance in dominating fashion and making it all the way to the finals to meet up against Alliance again. There, they lost 2-1 including a devastating defeat in the final game where they didn't even manage to get a single kill.
The variance in performance with this roster is almost as astounding as how little is really known about their play style. Goblak is hailed as a fantastic drafter who has a unique style of drafting that makes the team incredibly difficult to prepare for, but exactly what pocket strats do they have lined up? One must not forget that it is this team that is attributed with making Treant Protector such a huge hit in the scene after they used it to fantastic effect. What other tricks do they have up their sleeve?
First, of course, they'll have to go through the Wildcard match, but it will most certainly be intriguing to see what the think-tank has been cooking up.
---
What do you think? Anything to add? Any observations to make? Feel free to share your opinions in the comment section below!
---
Be sure to follow us on various social media sites!
QuanticGaming on Facebook
QuanticGaming on Twitter
QuanticGaming on YouTube